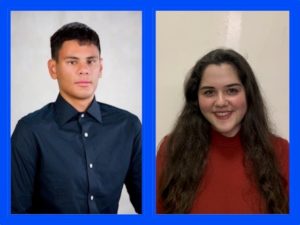 The Lamber Goodnow legal team is proud to announce this year's winners of the Summer Scholarships Program!

Summer College Scholarship                                    One  $1,000 Scholarship Award 
Jaxxen Tunney
Jaxxen Tunney recently graduated number one in his class at Kealakehe High School in Kona, Hawaii, overcoming autism and becoming a public speaker with a dream of one day bringing exotic science to a level where anyone can understand it. This fall, he'll be attending UC Berkeley to major in Astrophysics and double minor in World History and Social Justice. His feet, however, remain firmly on the ground and during the pandemic, while his local food bank, Kokua Closet was closed, Jaxxen and his mother secured entire truckloads of food to help as many people as they could in their community.
 Summer Law School Scholarship                 One $1,000 Scholarship Awar
Marie Nercessian
Incoming 1L
Cornell Law School
Beginning at the age of 18, Marie Nercessian has spent time with hundreds of inmates, researching, and writing about jails and prisons across the State of New York. Eventually, she became an intern in the psychiatric block of a maximum-security detention center for a summer, and there she realized how ill-equipped our justice system can be when attempting to accommodate the most vulnerable in our society. Marie also realized that an attorney is oftentimes the last chance or hope that people in these circumstances have. She now aspires to defend the most vulnerable members of society as a criminal defense lawyer.
Our ongoing worldwide pandemic has only intensified the need for continuing education, and bold new ideas in an age of change and uncertainty for all of us. Many students are heading back to campus this fall, but in some areas, remote learning technologies will continue to replace traditional classroom learning models, and hybrid models combing some in-person courses, along with online courses appear to be the NEXT NORMAL, as is true in our working lives, as well.
Throughout these times of massive upheaval, we congratulate our honored finalists who had the courage to persevere under these unprecedented circumstances. And many thanks to everyone who entered our summer scholarships program in 2021. Here's to constant and never ending improvement — and learning for life.
For more information about our next round of scholarship opportunities with a deadline of December 1, 2021, please visit the Lamber Goodnow Injury Law Team Education Scholarships page.